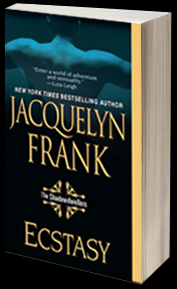 Publication Date: January 01, 2009
Zebra
ISBN-10: 0821780700
ISBN-13: 978-0821780701
ECSTASY
The Shadowdwellers - Book 1

At one with the darkness, the mysterious Shadowdwellers must live as far from light-loving humans as possible in order to survive. Yet one damaged human woman will tempt the man behind the Shadowdweller throne into a dangerous desire…
HER WORLD IS TOXIC TO HIM, AND SO IS THEIR ATTRACTION
Among the Shadowdwellers, Trace holds power that some are willing to kill for. Without a stranger's aid, one rival would surely have succeeded, but Trace's brush with death is less surprising to him than his reaction to the beautiful, fragile human who heals him.
By rights, Trace should hardly even register Ashla's existence within the realm of Shadowscape, but instead he is drawn to everything about her—her innocence, her courage, and her lush, sensual heat…
After a terrifying car crash, Ashla Townsend wakes up to find that the bustling New York she knew is now eerie and desolate. Just when she's convinced she's alone, Ashla is confronted by a dark warrior who draws her deeper into a world she never knew existed. The bond between Ashla and Trace is a mystery to both, but searching for answers will mean confronting long-hidden secrets, and uncovering a threat that could destroy everything Trace holds precious …


riveting (Jan 27, 2009)
Reviewer: louisiana
I found this book at walmart, brought it home, and could not put in down. I was finished by 10am the next day. What an awesome love story. I wish I could convey how good this book is. It just brought me to their world and I didn't want to leave. It does what a good book is supposed to do!!

Fantastic Romance at Its Peak! (Jan 24, 2009)
Reviewer: B Nashville, TN
Jacquelyn Frank has mastered the art of escape and fantasy in her new book Ecstasy. As a supporter of her books and an avid reader, it did not take long to escape into this new world of mystery, action and passion. It is not easy to create a story that will captivate the reader all the way through, yet Jacquelyn Frank held me from the first to the last word. I was completely entranced throughout the reading, desperate to find out how it would end, and then elated with the ending. I am impatiently waiting for the follow-up to this great start in her new series. I hope there will be many more to come!