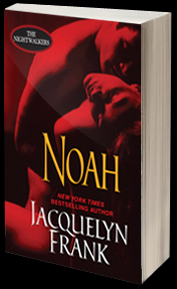 Publication Date: September 01, 2008
Zebra
ISBN-10: 0821780697
ISBN-13: 978-0821780695
NOAH
The Nightwalkers- Book 5

The Nightwalkers have lived in the shadows of our world for centuries, gifted with abilities few humans can comprehend. For Noah, duty is all—until he meets the woman who is his destiny…
SHE WILL TAKE HIM
BEYOND HIS WILDEST DREAMS.
As Demon King, Noah is dedicated to protecting his kind from their human and Nightwalker enemies. Yet for six months he has struggled with vivid dreams that threaten his very sanity. Every night he's tormented by images of a woman both achingly real and tantalizingly beyond his grasp.And his bone-deep need leaves him no choice but to force her to leave the life she's known and enter a world beyond her imagining…
Every day, Kestra risks her life in perilous missions that veer just shy of the law, but she instinctively knows that the imposingly sensual figure before her is a danger unlike any she's ever faced.
Kestra has sworn never to trust or need another man, but Noah's lightest touch scorches her with fevered desire, branding her as his mate, blinding them both to the terrifying truth. For within the ranks of their own people lies an adversary growing in number and power. And nothing and no one will be safe again…
Desire awakens at night…

Click here to order the audiobook


"Jacquelyn Frank's NIGHTWALKER series depicts an engrossing alternate world, drawn in prose that is lush and lyrical." —Linda Howard
All I can say is WOW! What a fantastic new series! This is the first book in the Nightwalker series that I have read by Ms. Frank and I have to say I am very impressed. –Regina, Coffee Time Romance
Customer Rating for this product is 5 out of 5 The King is here!!
Susan M, A reviewer, 09/05/2008
Jacquelyn Frank has created a phenomenal series and Noah brings the fire and burn that concludes this part of the Nightwalker world with an explosive romance in epic grandeur. With all the Elemental Demons along with their mates, Noah takes the reader on an emotional roller coaster ride through passion and danger in blazing style. Ms. Frank brings new meaning to 'burning bed' when you curl up with the Demon King, and Noah is guaranteed to set your night on fire as you read his story. Her talent to create extraordinary characters and heart-wrenching romance is forever imprinted within the heart, soul, mind and spirit of the readers that have walked through the Nightwalker world with Jacob, Gideon, Elijah, Damien and now Noah. Noah by Jacquelyn Frank is a MUST read and one you do not want to miss. Enjoy!!
Customer Rating for this product is 5 out of 5 this is firrrrer
A reviewer, A reviewer, 06/19/2008
This is a book you will have to read. Once you start will not want to put it down. This book is hot hot hot!!!!!!!!!!!!!! devoted fan shantae of miss
5.0 out of 5 stars Another wonderful book from Jacki!, September 10, 2008 By S. Kelly (USA)
As always I wasn't disappointed!!
I loved the interaction with Noah and Kes.
Noah has such a wonderful personality!
Cant wait to see what happens next in the
new series!! Waiting impatiently for Ecstasy!
Well done Jacki!