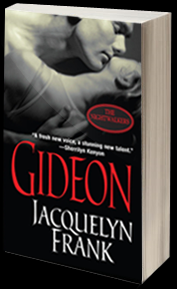 Publication Date: June 01, 2007
Zebra
ISBN-10: 0821780662
ISBN-13: 978-0821780664
GIDEON
The Nightwalkers- Book 2

They're called the Nightwalkers—proud, ancient beings who live in the shadows, existing just beyond the human world. But there are also dangerous humans who hunt them—necromancers who use the blackest magic to manipulate them. And for a Demon named Gideon, the battle against these evil forces will soon be all too personal.
HAS A HEALER, HE KNOWS HER BODY.
BUT IT'S HER HEART HE WANTS.
For a thousand years, Gideon has healed his people. And as the oldest surviving male of his race, his wisdom has always been respected without question.
But Gideon knows that even he is vulnerable to the powerful, primitive desires that befall his kind during Hallowed moons—and nine years ago that truth was hammered home when he found himself claiming Magdelegna, the Demon King's sister, in a wild embrace.
orrified by his lack of control, he left her wanting and furious—and then exiled himself for the better part of a decade.
Now, with necromancers threatening his people—and Magdelegna nearly their victim—Gideon must face another truth. He and the beautiful, stubborn Magdelegna are destined to be together, to share a love as deep and old as time itself. But first he needs to regain her trust. Then he'll have to save her life.
Every night holds secrets.
Click here to order the audiobook


"Jacquelyn Frank's NIGHTWALKER series depicts an engrossing alternate world, drawn in prose that is lush and lyrical."
—Linda Howard
From Publishers Weekly
In Frank 's seductively crafted universe (introduced in last year's Jacob: The Nightwalkers), demons aren't the clawed horrors of myth (unless they're possessed by the book's villainous necromancers); they're handsome, proud, sensuous and decidedly ambivalent about the world of mortals. Demons have a thousands-year-old rule forbidding them from coupling with humans, who aren't made to survive sex with the charismatic Nightwalkers; male protagonist Gideon, an ancient healer demon (who, naturally, doesn't look a day over 35), has spent eight years in self-imposed exile after attempting to break that law. Recently returned, guilt-wracked Gideon is finally drawn to the true object of his desire: the even-more-forbidden Magdelegna, young sister of hot-tempered demon king Noah. Though Magdelegna's kin raise hell over the May-December romance (at 250 years old, Magdelegna is barely an adult), the pair's breathtaking sex...
Posted by: romancenovels | June 16, 2008
I found this book quite enjoyable. Frank has created an interesting world of demons, necromancers and magic. I'm not sure that I totally understand the nuances behind the demon/vampire/lycanthrope way of life. However, I am willing to bet that reading the rest of the books in the series would help make things a bit clearer.
Overall, I thought that Gideon and Magdelegna made a great couple. I loved the tension between them at the beginning of the novel - and the way that they were once they gave into their feelings for each other. I am definitely looking forward to reading more about the nightwalkers. I am putting the rest of Frank's books on my to be read list!