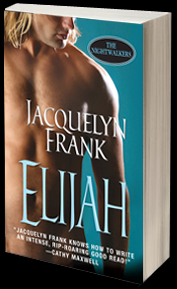 Publication Date: December 08, 2007
Zebra
ISBN-10: 0821780670
ISBN-13: 978-0821780671
ELIJAH
The Nightwalkers- Book 3

They are called the Nightwalkers, an ancient race devoted to protecting the world from the darkness of the Necromancers. And their proudest warrior is Elijah, a man who bends for nothing and no one...until one woman brings him to his knees…
SOME FEELINGS YOU JUST CAN'T FIGHT
He is known as the Warrior Captain—a master of every weapon, a fierce soldier sworn to protect his kind from violence. Powerful, relentless, merciless, Elijah has always won every battle he's ever taken on—until now. Ambushed by Necromancers, he is left for dead only to be rescued by a woman who could very well deliver the final blow…Siena, the Lycanthrope Queen.
For over a decade, an uneasy peace has existed between the warring Lycanthropes and Elijah's people, and he's not about to let his guard down now around their queen.
But Siena's will is every bit a match for Elijah's own, her sleek and sensual nature waking a hunger within him that he cannot deny. Now, the Warrior in Elijah is consumed with a different battle—winning Siena's heart by giving her pleasure beyond all boundaries. What starts as attraction and arousal soon burns into a passion with consequences that will echo through the ages for both their people. And as would-be enemies become inseparable lovers, another threat approaches, one with the power to destroy them all…
Surrender to the night.
Click here to order the audiobook


A "sweet" Demon series?, December 19, 2007
By: Amanda
The most surprising thing about this series is the lack of conflict. It's sugary sweet for a book about Demons, Vampires and Lycos. You definitely won't lose any sleep here! The books basis is this: Among the fragile truces between the different night dwellers, they come together to fight human magic makers known as necromancers, who are slowly but surely staking out Vamps and Lycos, and entrapping Demons in pentagrams until they are no longer sane. It's a good series, the characters are all very interesting and you may not miss that bite of, well, crude language and descriptive violence that we have all come to expect in this genre, a refreshing Lore book, and go figure? Sure they get serious injuries and there are some cool battles but those aren't really the focus. The love match is 80% of this book, yes, the sex is nice and steamy, but very tender and the focus is on the intimate fears and feelings the characters are experiencing. The conflict carries from book to book, as in we don't know who the "big bad wolf" is yet, then we can't get them yet and there may be others, the series really needs to be read in order to be fully appreciated. I will definitely follow this series as I have come to know and like the characters very much. We not only revisit past characters as the series progresses, but those characters hold strong roles in every book. 5 stars because sure, it's different, but bravo for that in and of it self!

The latest book in the Nightwalkers series is entertaining and action oriented with just enough romance to keep fans of the genre very happy. Jacquelyn Frank does for Demons what Anne Rice did for vampires and witches and what Tolkien did for Hobbits. The pairing of an alpha male demon and an alpha female lycanthrope makes for an interesting battle of the sexes as each tries to dominate. The other characters from previous Nightwalker books make appearances and play pivotal roles that give the audience a sense of continuity.
Harriet Klausner
Posted by: romancenovels | Aug. 9, 2008
I admit that I am now very caught up in Frank's Nightwalker's series after having read Elijah. I thoroughly enjoyed Gideon, but I adored Elijah. There was some great chemistry between Elijah and Siena. I could feel the tension between the two when they were alone in the cave together while Siena was tending to Elijah's injuries. It was very apparent that they would not be able to stay away from each other. I do wish that they would stop the demon, Nightwalker Ruth, however. I suspect that she will be around until the end of the series, but she makes me SO mad!