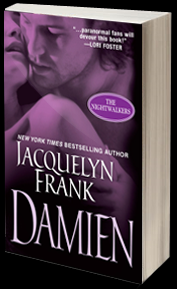 Publication Date: June 01, 2008
Zebra
ISBN-10: 0821780689
ISBN-13: 978-0821780688
DAMIEN
The Nightwalkers- Book 4

They are the Nightwalkers, mysterious beings who dwell in the shadows of our world, and Damien, the Vampire Prince, is among the most powerful of them all. But one woman will tempt him with a desire unlike anything he has known, and together they will face a terrifying and relentless foe…
HE'D NEVER LOVED.
BUT SHE WAS IRRESISTIBLE.
As reigning Vampire Prince, Damien has tasted every pleasure the world has to offer—consorting with kings and queens and delighting in sensual adventure. Now, tired of such pursuits, he devotes his energies to protecting his people.
The war between human necromancers and Nightwalkers has escalated, and when the enemy makes a daring move, kidnapping Syreena, a Lycanthrope Princess, Damien boldly follows. He succeeds in rescuing her, but is unprepared for the erotic longing her lush sensuality awakens in him.
Gifted with rare abilities, Syreena grew up in a cloistered setting and was forbidden to form attachments to others, yet the connection Damien feels with her is immediate, intoxicating, and impossible for either to resist. But claiming Syreena as his mate could have shattering repercussions for every Nightwalker—and leave their enemies more dangerous than ever before…
Temptation tastes sweetest at night.

Click here to order the audiobook


"Jacquelyn Frank's NIGHTWALKER series depicts an engrossing alternate world, drawn in prose that is lush and lyrical." —Linda Howard
5.0 out of 5 stars A Great read, June 29, 2008
By Tabblair Hope-o'brien "Tobi teacher" (Royal Oaks, CA USA)
I think J.. Frank has created a well written series for this genre. I found it had solid details, well developed characters and an engaging plot. You also have the added bonus of keeping up with the characters from the other novels. I 'm eagerly looking forward to Noah's story.
4.0 out of 5 stars Another winner, July 26, 2008
By C. Grubel (Long Island, NY)
If you enjoyed her past books this will be another gem. The saga continues, this time with the Prince of the Vampires and a Lycanthrope. I thoroughly enjoyed it and look forward to the next installment in the series.
Customer Rating for this product is 5 out of 5 A reviewer
Francine Jackson, busy grandma of 3, 05/26/2008
This book was sexy, spine chilling, and steamy. I enjoyed the other 3 books but not as much as this one. Damien and Syreena are both such sexy characters. I highly recommend this book to anyone who loves a good vampire read!!
Customer Rating for this product is 5 out of 5 A reviewer
Tai la Mar, A reviewer, 04/16/2008
I've read the 3 previous books so I know for a fact that this 4th installment is just as steamy, sexy and mind blowing as the others. A must read for those who love their vampires tall dark and sinfully sexy
Customer Rating 5 out of 5
Ann Arbor, MI
"I thought this was a great continuation of the series, The Nightwalkers, Book 4. This story was about the leader of the vampires and the sister of the queen of the Lycanthropes. I love the twists the author adds to each story--they make her books stand out from the standard paranormals. Strong characters make this book appealing to other genre readers -- a must buy!"